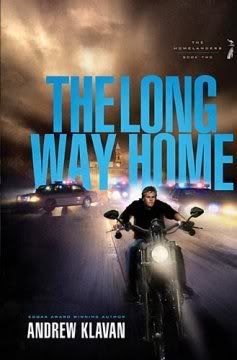 The Long Way Home, is the second book in the Homelander series by Andrew Klavan. This is a juvenile fiction, yet I am sure many adults will love this too. The book is pretty fast paced and is full of action. I love books that keep going like this one does. I really appreciate it being a juvenile fiction, which to me means that it is not full of a lot of "adult" scenes like many books these days are. I also liked that it was something that was appropriate for my teenage stepdaughters to read as well as myself.
I actually have had this book at home for a long time, but thinking it was a juvenile fiction that I would not be that interested. My stepdaughter read this first earlier this summer. She loved it and said I had to read it. She said we really had to go and get the next book in the series. I totally agree! While you can read just this one story, with the way it ends, it really makes you long to keep reading more. It is a great action packed story, yet having the main character be a teen is what will definitely keep your teens interested. I think there are many things like going back home and seeing old friends that also will get the interest of your teens, especially if they are off to college or away from home themselves. I really liked the storyline of the main character, and of his friends.
This story is really entertaining. If you are a fan of crime stories this is a great one for you!
Disclosure: I received this book for free as a member of book sneeze.