Giveaway closed.
Congrats Susan!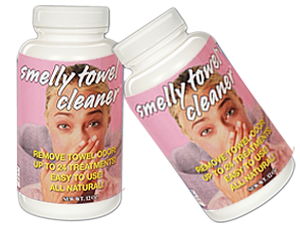 Smelly Towel Cleaner
is an all natural product that has a wonderful garden fresh fragrance and is specifically made to remove that musty, mildew smell from towels and clothing. Just a teaspoon added to a full load of musty towels or laundry makes them smell like new again! Use just a half teaspoon of Smelly Towel Cleaner as a detergent booster to enhance colors and keep that fresh smell!
I received Smelly Towel Cleaner to use at home on my towels. It worked great! With this summer heat my towels have been getting the musty smell. In the past I have let my towels soak in a strong scented laundry soap. The strong scent covered the odor, but once the towels were wet again you could smell the musty odor again. Using the Smelly Towel Cleaner it left the towels just smelling fresh. It did not leave a strong scent that is overwhelming, just a clean odor. I have noticed that this has lasted a few washes before needing to rewash the towels using the Smelly Towel Cleaner.
It is economical seeing you only need one capful for each load, and do not have to use it every time you wash your towels. The only thing I think that would help is if it didnt clump so easily in the bottle. I have had to shake it quite a bit to loosen up lumps of the cleaner. Overall I give this cleaner a big thumbs up! I would love to try their Smelly Washer Cleaner, which is an all natural washing machine cleaner.
You can purchase both Smelly Towel Cleaner and Smelly Washer Cleaner online at
http://www.smellywasher.com/
.
One lucky reader can win a bottle of Smelly Towel here. To enter: Follow my blog and leave a comment telling me you would like to win.
Extra entries:
Subscribe to my blog.
Follow me and
smelly washer
on twitter and tweet this giveaway.
Add me to your blogroll.
This giveaway is open to US residents. Please leave a seperate comment for each entry. This giveaway will end on Oct 20 and the winner will be chosen by random.org.
Disclosure: I received a free bottle of Smelly Towel to review.