Are you looking for some great new toys for your dog, or maybe a gift for under the tree? Did you know that Hartz makes many different types of dog toys? They do and they sure are fun! We received the Hartz® Tuff Stuff™ Nose Divers™ and the Hartz® Dura Play® Ball for our dog to play with.....and play he did! He absolutely loves the
Hartz Nose Diver
.
Hartz Nose Divers soft chew toy and nylon tug toy has been designed to provide exceptional durability. Heavy duty cotton rope runs through the entire product to evenly distribute stress from pulling. Ballistic nylon exterior provides enhanced durability for tough chewers. Available in three eye-catching colors.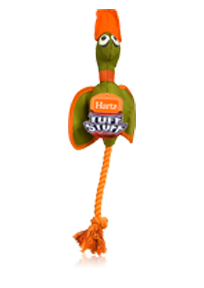 The first day even if we came anywhere near it, he would grab it ready for some tug of war. He has been playing with it all week long. He loves chewing on its head and the ability to play tug of war with us. He also loves that there is a squeeker in the body. I love that it is not an annoying squeeker and he is not able to make it squeek constantly. The only issues I have is our dog managed to chew apart the head, and pull the stuffing out. What I don't mind about that, is that I still feel it is ok to let him play with. The inside of the head had some stuffing in it, but was mostly made up of the tied rope material like the other end, so he is still able to chew and play with the toy.
For the
Hartz Dura play ball
all we have to do is squeek it and he comes running from what ever room he is in. He has been a bit more concentrated on the nose diver, but I do keep finding the dura play ball out too. He likes playing catch, but with this toy tends to like chewing on it more than bringing it back to us. It is such a soft material, yet very strong. We have not had any issues with this toy coming apart, or being chewed apart.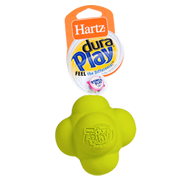 Hartz® Dura Play™ Ball provides an exciting new chewing experience for dogs. Our patented technology combinines a latex exterior with a foam-filled interior, making Dura Play™ dog toys durable, flexible and fun.
disclosure: This is a mamabuzz review. I received free products to review from Hartz. This is my personal opinion based on this review.