Giveaway closed.
Congratulations etirv!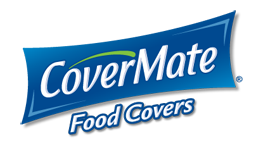 Are you sick of searching for the covers to your storage dishes, or fighting with the plastic wrap? Yeah...me too! Thanks to
CoverMate food covers
we now have a different option for covering our foods! New CoverMate stretch-to-fit food covers provide a quick and easy way to cover all plates, bowls and containers.
Covermate covers are sold in individual boxes of medium size covers (12 ct), large size covers (10 ct) and our new Variety Pack (10 ct) which contains a selection of medium, large and extra large size covers. You can also
go online and get a free sampler pack
(as well as a $1 off coupon for future order) and just pay the $3.95 S&H .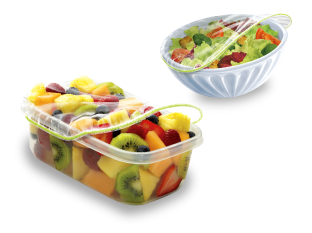 I received the CoverMate variety pack to try out. I have to say...I love them. I have not used plastic wrap at all since I have been using the CoverMates. It is just so much easier to grab one of these covers and stretch it over what ever dish my food is in. I do not have to worry about the food going over the top of the dishes, as the cover will stretch over and will fit along the edges of the dish. These are great this time of year, as we love to BBQ and have fresh fruits. For this we tend to use paper plates a lot...and we all know that plastic wrap does not stick to those paper plates. I have used the CoverMate covers over paper plates to store the leftovers. They work great! I have even used them to cover a half of a watermelon placed on a platter. This would have used a lot of plastic wrap to cover it, but the extra large CoverMate fit with room to spare.
These are also great to use in the microwave to prevent foods from splattering or to steam your veggies. I have used these several times and they hold up well. I have not seen any signs of stress from using them in the microwave, unlike many of my storage dish covers. They are clear, so you can see what food they are covering, or while in the microwave you can keep an eye on the food you are heating.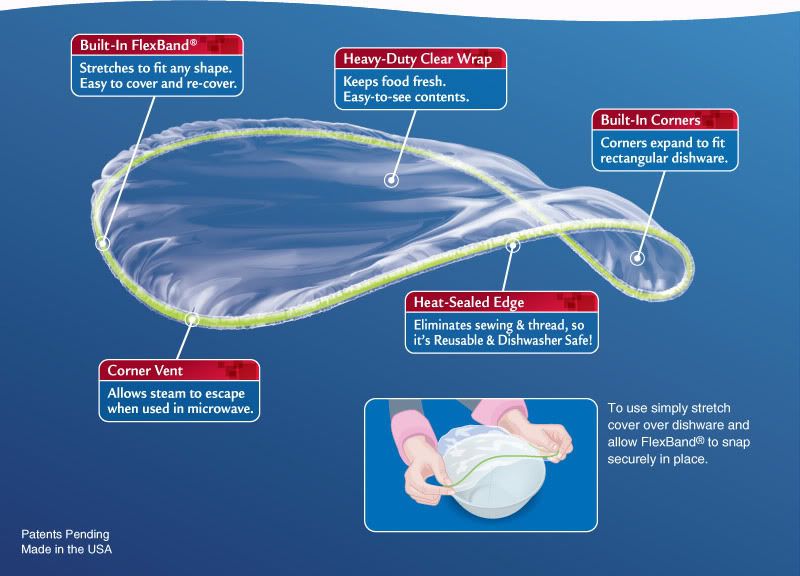 The CoverMate covers say they are dishwasher safe. I do not have a dishwasher so I could not test this. At first I wasnt quite sure how to wash these, or dry them. I found it easiest to wash with my dishes with soapy water, then rinse. To dry the covers I wring all the water out after rinsing and then stretch the cover over my utensils or over a couple dishes and let the cover air dry.
They are so handy, and storing them is easy too. The Variety pack came in a zip style baggy, which I keep all of them in while not being used. They can be flattened out and can fit into spaces your other storage dishes can not fit! I just have to say I love these...and will make sure to save my plastic wrap for sending dishes home with other people, as the CoverMate covers are not leaving my house!
You can purchase these at many store locations or online locations. To find a location you can click
here
.
Thanks to CoverMate one lucky reader can win a variety pack, like the ones I got to try! To enter: You must follow me with google friends connect and leave a comment telling me why you would like these. (1 mandatory entry)
Extra entries:
blog about the giveaway linking back here (5 entries)
follow me on twitter and tweet this giveaway (1 daily entry)
follow me with networked blogs on facebook (1 entry)
write about this giveaway on facebook linking back here (3 entries)
subscribe to my blog ( 1 entry)
add me to your blogroll ( 1 entry)
Please leave a seperate comment for each entry. This giveaway is open to US residents only. The giveaway will end on 5/16 and the winner will be chosen by random.org
disclosure: This was a mamabuzz review and the product was provided for free by CoverMate.