Giveaway closed.
Congratulations amandakbarnes, kr, hotsnotty2, lil.blessing and kngmckellar!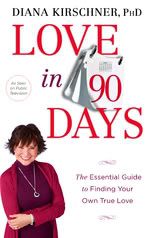 Read an Excerpt
About the book
:
Finding true love is possible in just 90 days. Renowned clinical psychologist, Dr. Diana Kirschner, uses the latest research, clinical and personal experience to show you how. Dr. Diana knows the questions single women everywhere face: "Why am I attracted to the wrong kind of guys?" "Why is he just not that into me?" "Why can't I seem to find the One?" She also knows the unconscious mistakes that women make over and over again in love-regardless of age, work success, or the type of men they are dating.
Over the years Dr. Diana has received countless inquiries from single women about writing a how-to guide on her work.
Love in 90 Days: The Essential Guide to Finding Your Own True Love is that book.
Love in 90 Days
is fun, savvy and based on the latest research on singles, online dating and healthy relationships. Loaded with step-by-step instructions, checklists, and weekly homework assignments, this revolutionary love book is also an intensely personal journey for each reader. Love in 90 Days guides you along your own path towards self discovery with proven and effective dating advice and tough love. Dr. Diana dispels common misconceptions about love relationships and dating, and share personal stories from women who have successfully completed the Love in 90 Days Program. There's also a chapter devoted to the special issues faced by African-American women, single mothers, and women forty-five and older.
Thanks to Hatchette book group five lucky readers can win this. Do you or someone you know need a little love advice...well enter to win this book!
To enter: Tell me who this book would be for.
Extra entries:
~follow my blog
~subscribe to my blog
~follow me on twitter
~tweet this giveaway
Please leave a valid email in one of your comments and leave a seperate comment for each entry. This giveaway will end on Jan. 24 and the five winners will be chosen by random.org. The giveaway is limited to US and Canada residents only and no PO boxes.