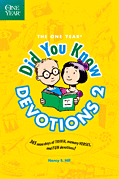 The One Year Did You Know Devotions 2, by Nancy Hill is a great book for your curious child. This book reminds me of those calendars you buy for your desk, with trivia, quotes, jokes, or scriptures. The book has a page for every day of the year starting with January 1st. The page title is a trivia question, like "Do all mosquitos bite?" What makes this different from most trivia books is it the answers are based on Christian scriptures. Each topic has a bible verse listed and is presented within the answer. Each topic have a biblical message applied to them. I think this would make a great gift for your later elementary to middle school aged child.

About the author:

Nancy Hill is a former school teacher who began writing devotionals for her own family an in the process became curious about everything from why Campbell's soup cans are red and white to where the word sofa came from. If a child has a question, Nancy will find the answer.

You can find this and other childrens(and adult) titles on
http://www.tyndale.com/
Tyndale wants to help us all spend time with our family while sharing God's work with our children. They have a variety of childrens devotionals to fit every family's need.
disclosure-I received this book for free to do this review.