Too Many Visitors for One Little House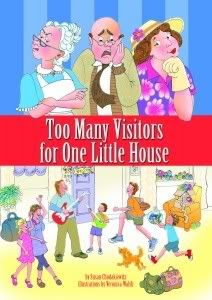 About the Author:

Susan Chodakiewitz is a writer, composer and producer. She lives in Los Angeles in a lively household filled wit music, 3 sons, a husband, a Dalmation and lots of visitors. Susan loves picture books and several years ago she wrote a musical based on one of her favorites. She realized then, it was time to start writing her own picture books. Too Many Visitors for One Little House is Susan's debut book. Booksicals founder Susan Chodakiewitz believes that children learn best when you engage their imagination: "I believe you can develop a child's love for reading by expanding the world of a book beyond its pages. Bring the characters to life and bring reading to life. " And this is precisely what inspired her to create Booksicals.

About Booksicals:

Booksicals is currently presenting musical performances of the book Too Many Visitors for One Little House. Booksicals works with schools,theaters and libraries, children's literacy groups and corporate sponsors; to promote literacy and encourage children to discover the sweetness of reading.

http://www.booksicals.com/
(Click on link and listen to an Excerpt from Too Many Visitors for One Little House.)
My Review:
Too Many Visitors for One Little House
was a fun story. There was a lot of action and excitement through out the whole story. I read this while I was babysitting and all the kids really enjoyed the story. My five year old and our neighbor's three year old really enjoyed the illustrations by Veronica Walsh. They had so much detail that they spent a lot of time checking over all the pictures. They really enjoyed reading about all the family visitting at the little house, and how the neighbors reacted to this.
disclosure~ I received this book for free from the author to review.